Big Adventures
World's Largest Sign Post
The World's Biggest Signpost from adghost on Vimeo.
Mobile meets Interactive meets Out of Home meets Innovation meets Genius.
Labels: Advertising, Digital, Innovation, Mobile, Nokia, OOH
Google Billboards
Google is going to start selling billboard ad space in its street views portion of Google Maps.
I'm curious... since Google typically specializes in animated internet ads, will the ads on the billboards be static to imitate real life? Or animated, as a continuation of the physical to digital transition/balance? [via
PC World
]
Labels: Billboards, Digital, Google, OOH
The Law in Times Square
The FBI has partnered with Clear Channel Outdoor, an outdoor media vendor, to
launch
an electronic billboard in Times Square to publicize their Most Wanted. This billboard is one of 1,500 billboards in 40 states. Since 2007, the FBI has used billboards to catch criminals and solve ~30 criminals as a result of these publicity efforts.
Since OOH / traditional media is on the decline, donating Billboard space makes sense... but what I don't understand is why they gave up such valuable real estate. Times Square placements go for a a pretty hefty sum, and the intended audience is generally tourists. Is it worth it to give this highly valuable placement to an ephemeral audience, who will barely be in the city long enough to catch / spot these criminals? Or would it be more efficient to donate a spot in a more residential neighborhood?
Will You Marry Me?
People are always trying to find
interesting ways to propose
. Although mostly clever and succesfsul, this has lead to a lot of public marriage announcements that have gone
horribly
,
horribly
wrong.
In the following cases, these clever guys used advertising, through media both old and new, to publicly pop the quesiton:
Chicagoan Eric Anderson proposed to girlfriend with bus-stop ad [via
AdFreak
]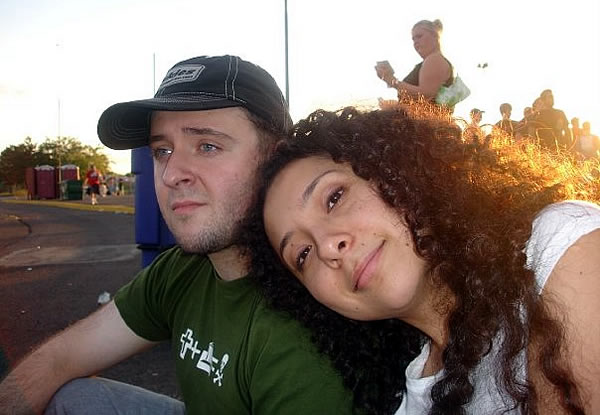 Fred Ehrhart used online banner ads to propose to his girlfriend, and asks tweeters to tweet-encourage her to
#sayyesd
[via
AdFreak
]
Labels: Digital Media, funny, Marriage, OOH
Flash Mobs - A Different Kind of OOH
"Flash mobs," originally from a New York based group called
Improv Everywhere
, have become an emerging media tool. They are useful because they are unexpected, grab attention, are generally funny, and if they are good enough, become internet sensations and
memes
. Check out some brands who have recently capitalized on Flash Mob energy:
Beyonce - 100 Single Ladies for
Trident
(4/20)
Illegal Ad Placement
I've always wondered about large posters plastered on the side of buildings... in particular, how does an agency go about buying this media placement?
Well, turns out they are "illegal."
Companies like
National Public Advertising Outdoor
that put up advertisements in public places typically do not have a proper permit. The city is not getting paid - instead, they pay the landlords of the buildings they use. Citizens are forced to look at advertising all over because these companies have illegally plastered their ads all over town. For whatever reason, the city looks the other way and rarely cracks down on them.
When organizations like
The Public Ad Campaign
organized a massive grassroots retaliation against the illegal billboards, NPA Outdoor added a new notice to all of their billboard sites. "Coming soon to this location: a chance to win these posters and other prizes inside" is posted because although it's illegal for a landlord to put an advertisement on the side of his building, but it's not illegal to put up a sign advertising products that are for sale inside. Doesn't stop the haters, though...
After a Culture Jamming Makeover:
Labels: Culture Jamming, OOH